SpongeBob SquarePants
OVERVIEW:
NoddyDog ventured deep into Bikini Bottom to produce game concepts around one of the world's most loved animated TV characters, SpongeBob SquarePants. Compatible with desktop, tablet, and mobile devices, 'QuestPants' is one of Nickelodeon UK's most extensive game series, giving fans the opportunity to explore multiple locations within SpongeBob's world and interact with more characters than ever before.
ROLES:
Art Direction / Producer / Designer / UI & UX
CLIENT:
Nickelodeon / Viacom International
AGENCY:
Fish in a Bottle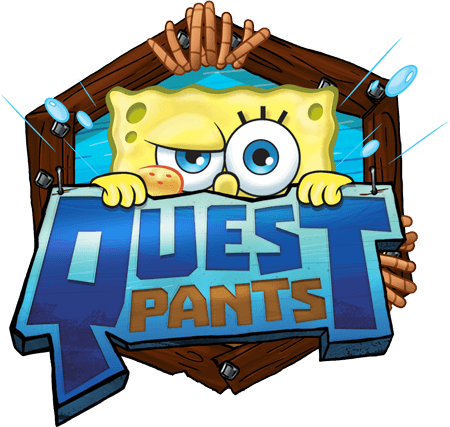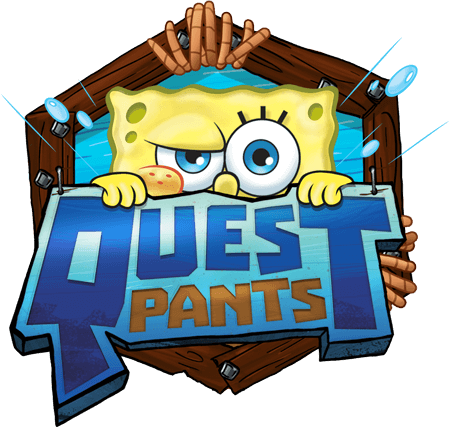 Bikini Bottom Buddies
The QuestPants concept was driven by key audience research which showed that fans wanted to know more about ALL of the characters, not just the main cast. Leveraging the vast roster of characters we created an action-adventure saga that was packed full with as much nautical nonsense as possible but equally balanced with moments of hilarious silly action!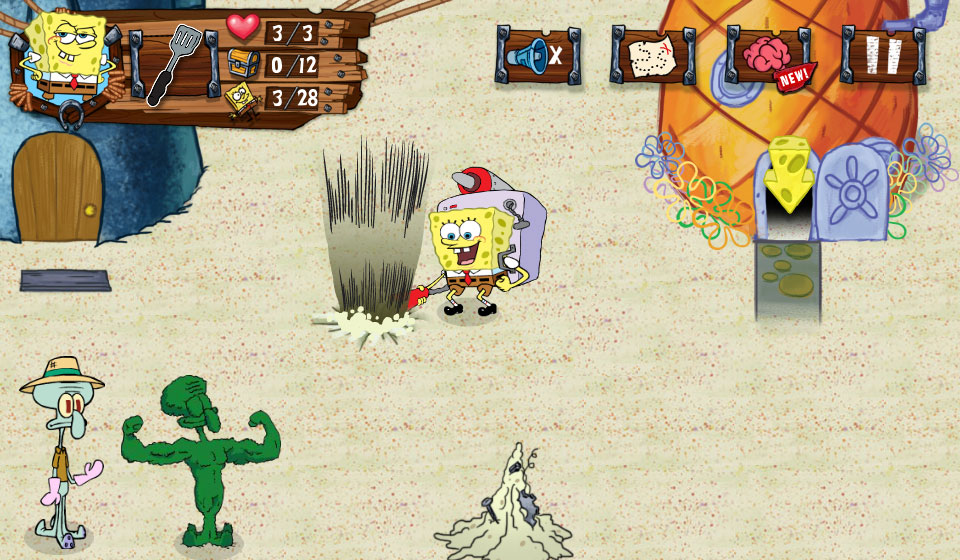 Each SpongeBob QuestPants game had themeable UI elements, such as the HUD interface, which allowed us to re-use the core game engine multiple times. The additional challenge was to keep the game's memory footprint as small as possible (SpongeBob had 56 different action animations alone!) so that we could provide the best performance experience across multi-platforms.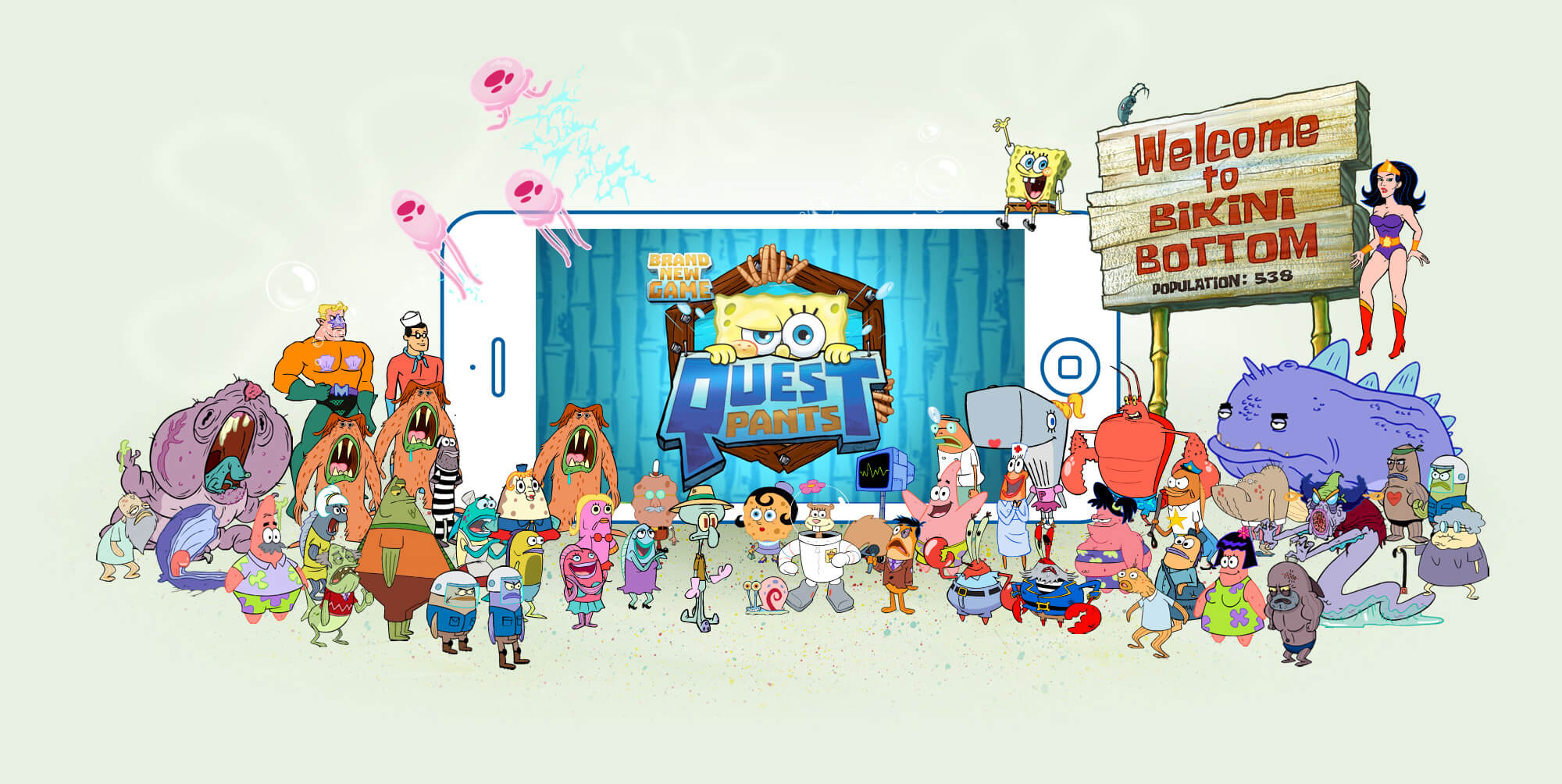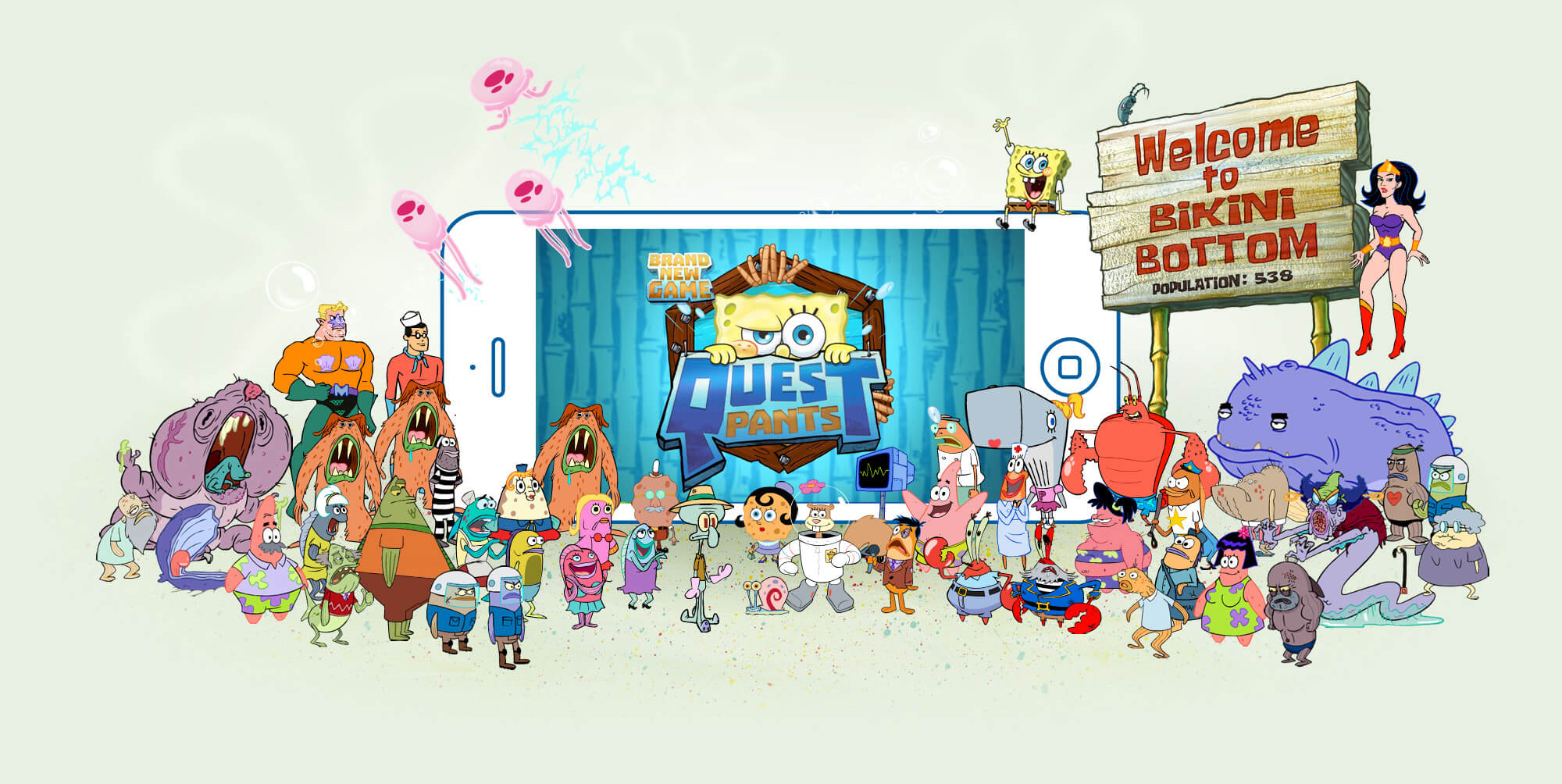 GAME FEATURES:
25-30 characters featured per game, ranging from fan favourites to the more obscure Bikini Bottom inhabitants.
Dozens of puzzles and sub-quests for players to engage with.
Themes and facts are based around actual episodes of SpongeBob but are presented in a unique yet authentic story.
Players can freely explore various locations in Bikini Bottom, such as Conch Street, Jellyfish Fields, and Goo Lagoon.
Action-packed battles against evil robots and jellyfish using an array of weapons including the Spatula, Reef Blower, Foam Hand, Patty-Pult, Broomerang, and the Golden Spatula.
Unlock additional features using special codes that are given away through on-air, marketing and sponsorship.
Mind Like a Sponge...
Players can venture into the depths of SpongeBob's brain (yes, he does have one) to explore their quest notes (to keep them on track), items collected, character profiles of the Bikini Bottom residents they've met, and find out more about their collection of 'Bikini Booty' they've discovered throughout the game.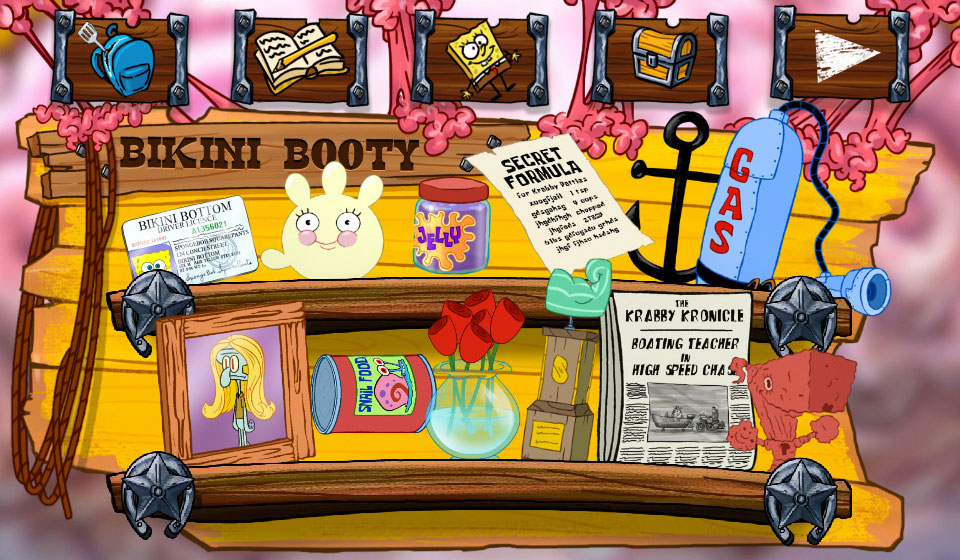 Clamu's Shop
Weapon upgrades and outfit accessories (SpongeBob needs to look his best whilst trying to save Bikini Bottom!) can be traded for pearls found during the quest at Clamu's Shop. We also integrated the ability to switch on a downloadable sponsored voucher for SpongeBob SquarePants merchandise.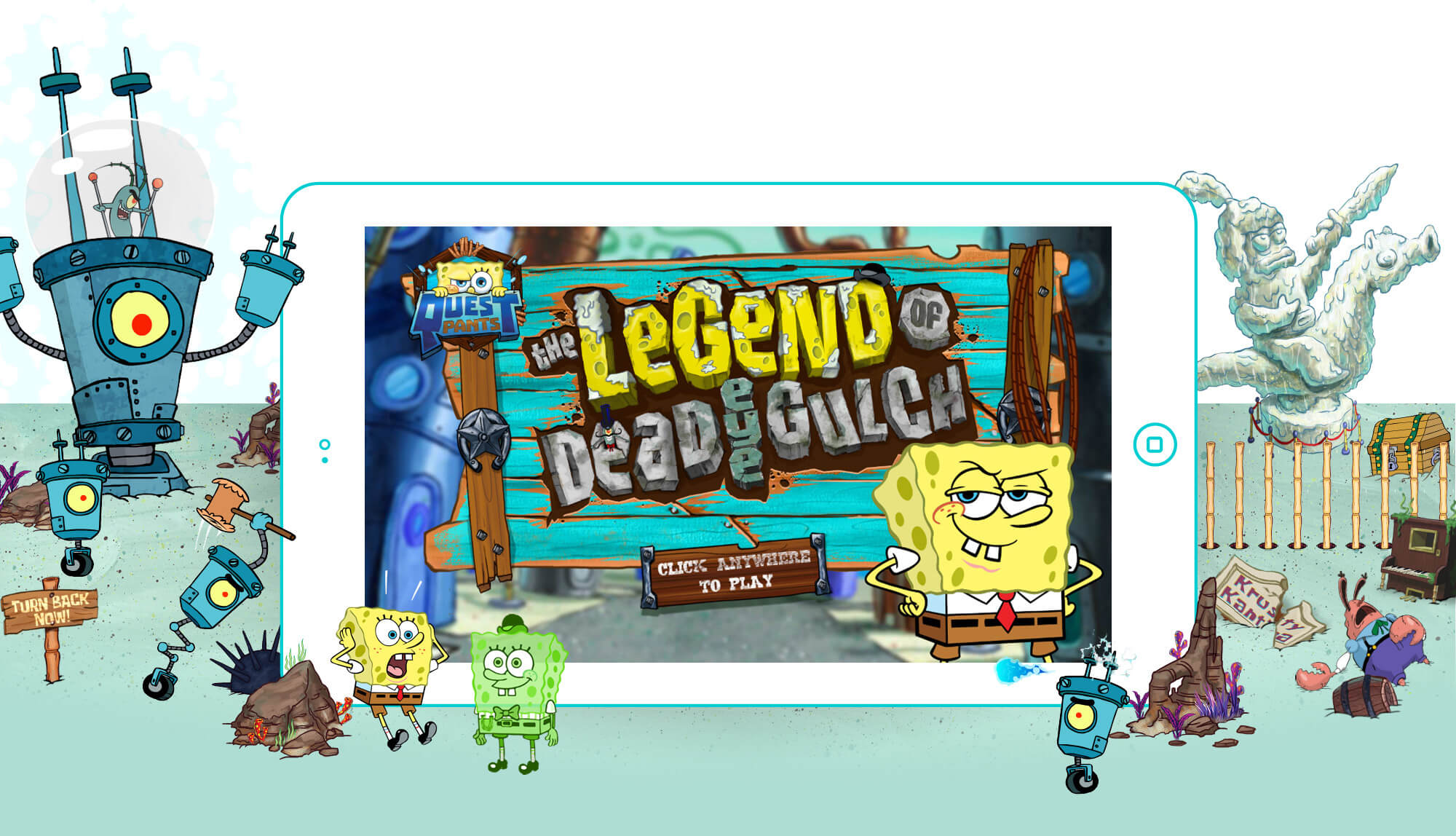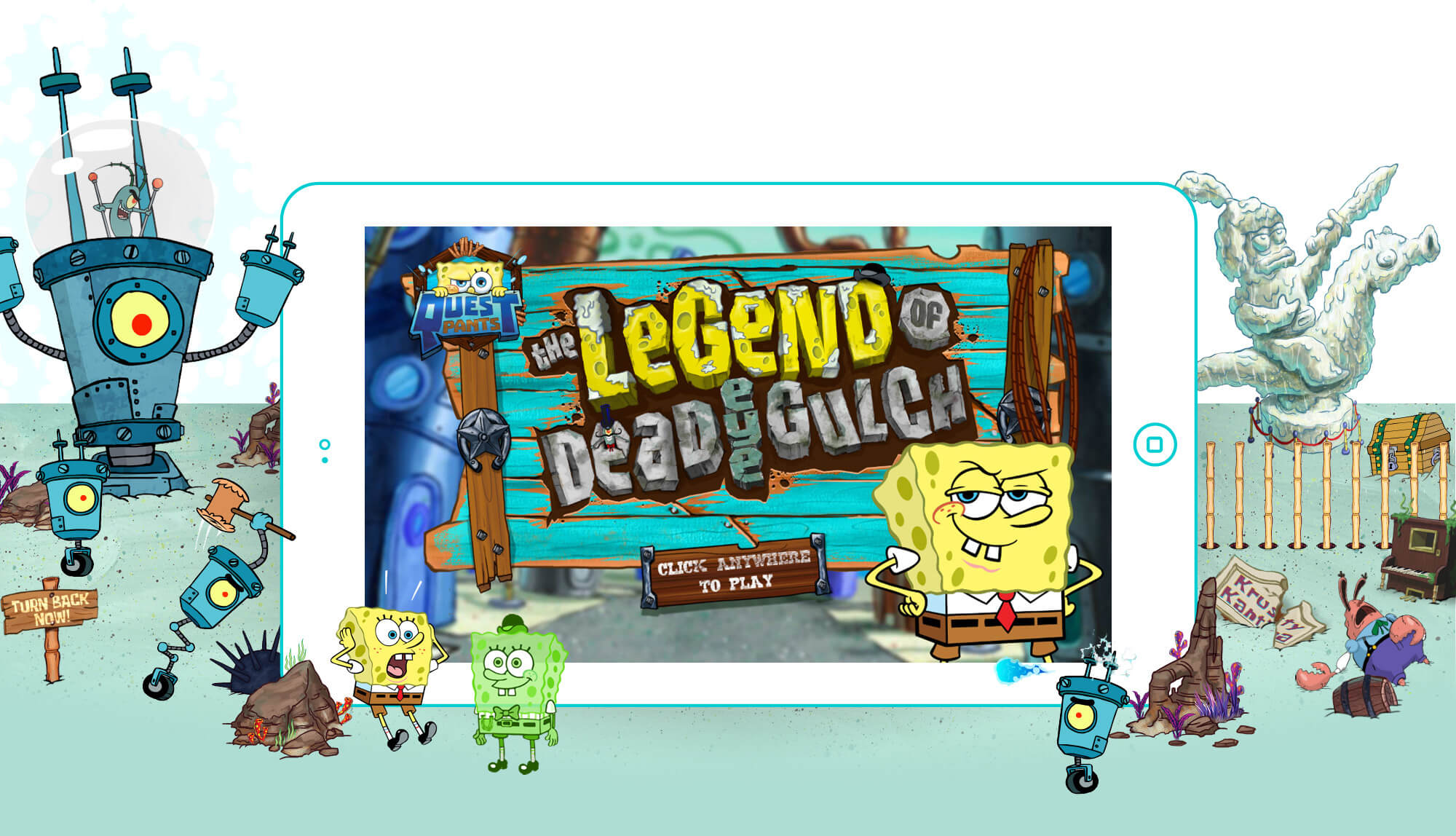 QuestPants 1:
The Legend of Dead Eye Gulch
When Mr. Krabs' daughter Pearl is tricked by Plankton, and his super-computer W.I.F.E Karen, into running up a massive credit card bill, Mr. Krabs is forced to consider selling the Krusty Krab and the top-secret Krabby Patty formula. SpongeBob sets off on a quest to find the long lost treasure of Dead Eye Gulch to save the Krusty Krab, but will Plankton and his evil robots get there first?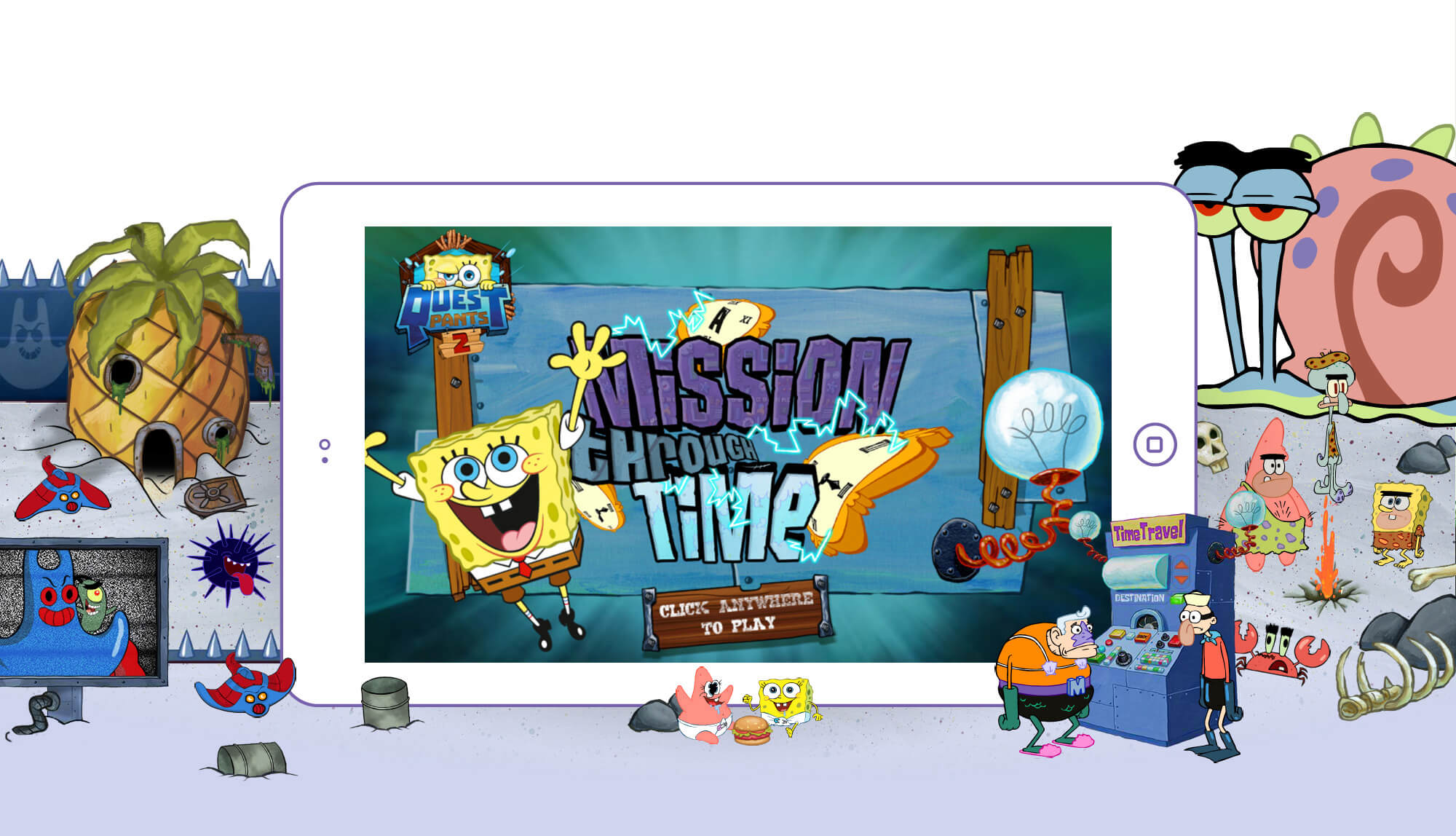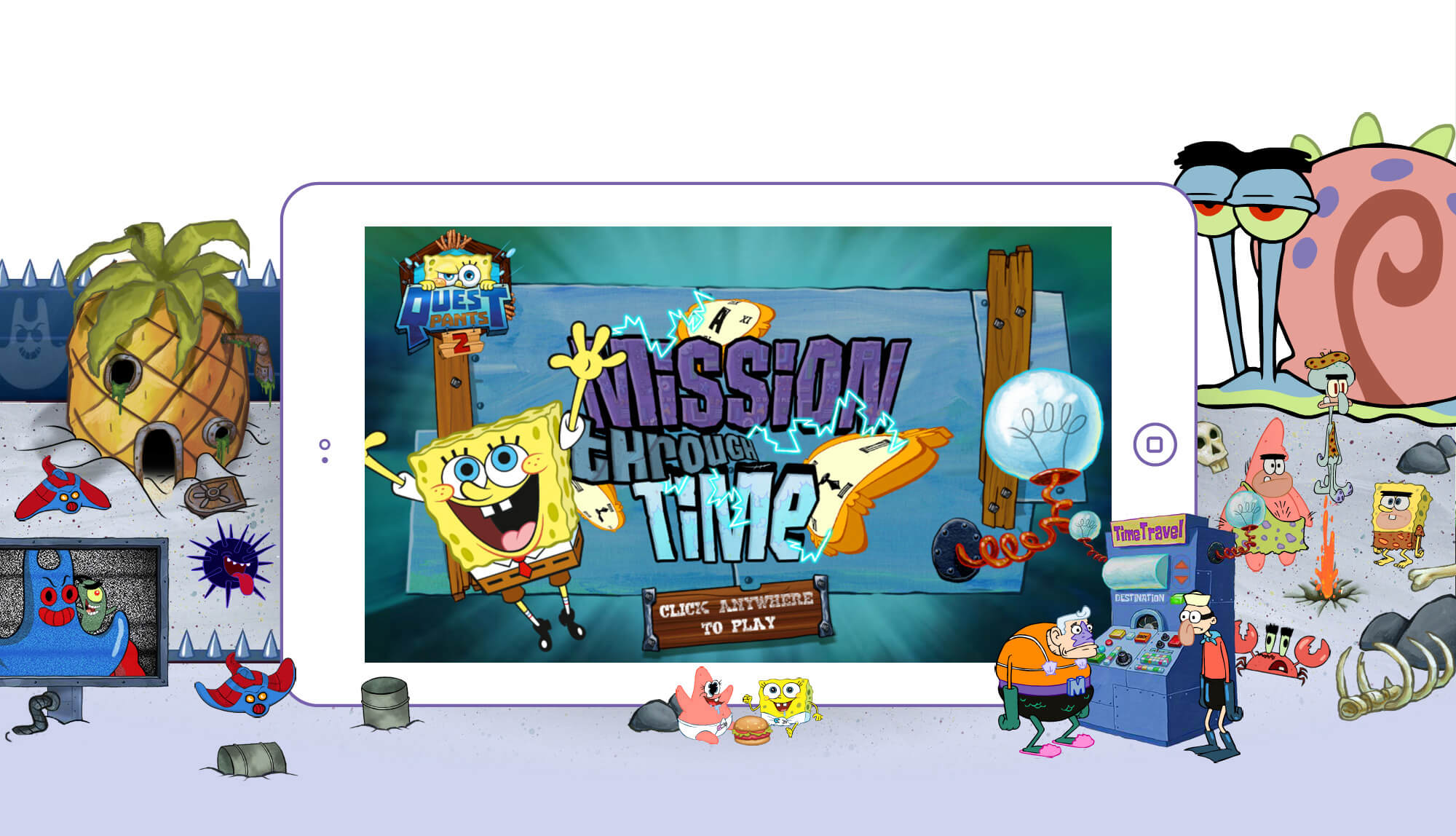 QuestPants 2:
A Mission Through Time
The future of Bikini Bottom is in peril as Plankton has teamed up with supervillain Man Ray and they have finally succeeded in stealing the top-secret Krabby Patty formula from the helpless SpongeBob and Patrick. Players must visit the past and future in order to recruit the help needed to save an apocalyptic Bikini Bottom. Yikes!
Results
The games were often the highest rated and most visited content on Nick.co.uk and the Nick App, which resulted in them being translated for other markets across the world. Plus, a further two installments of the highly successful QuestPants series have been produced.