Nickelodeon
OVERVIEW:
Kid's entertainment brand Nickelodeon UK required a fresh look across their digital platforms. The all-new responsive Nick.co.uk and Nick App allow fans to experience the full world of Nickelodeon by clicking and swiping across the site's content-heavy offering, no matter what device they are using.
ROLES:
Art Direction / Design / Content Creation / Games Production / Front-end Development
CLIENT:
Nickelodeon / Viacom International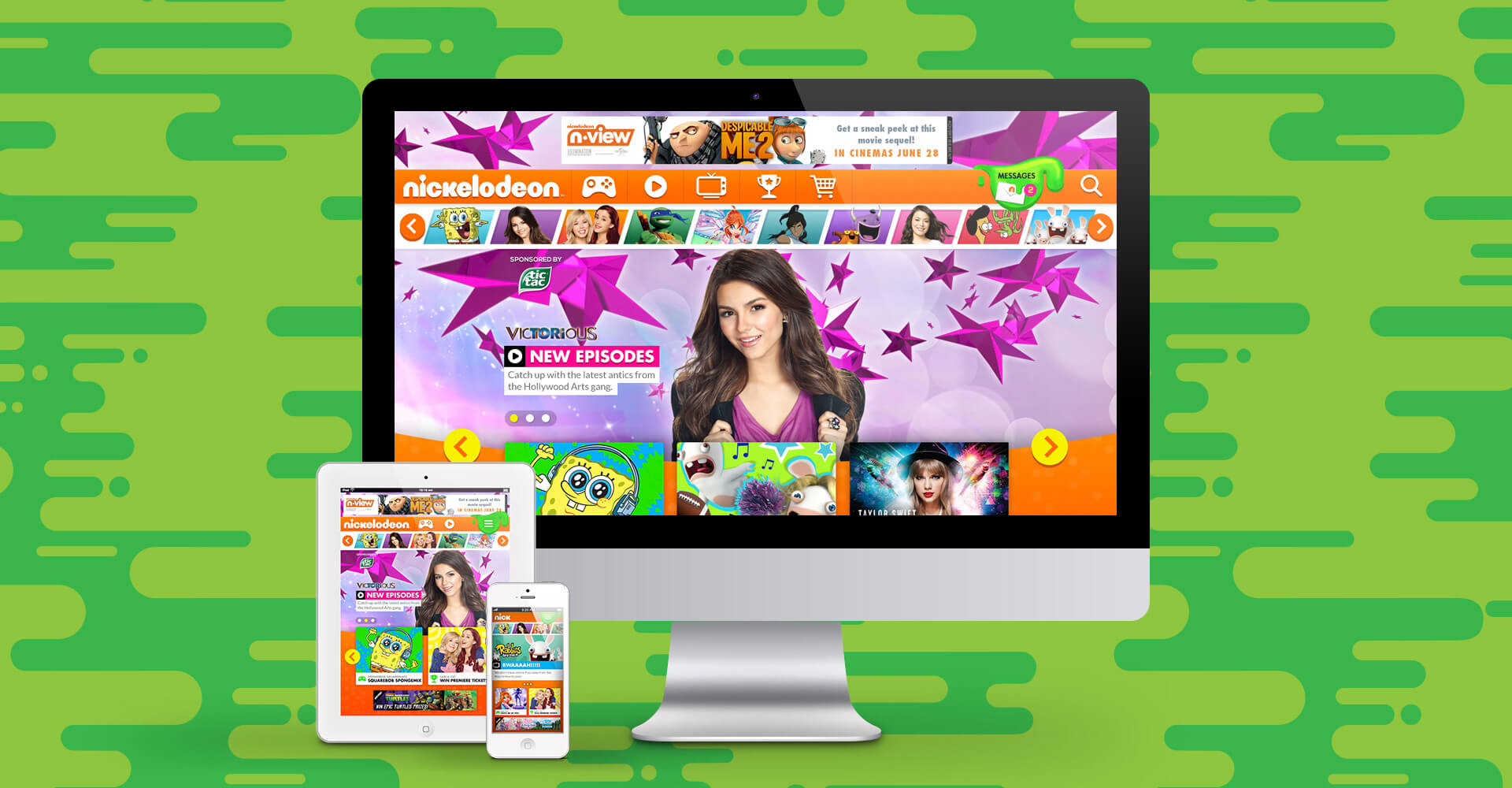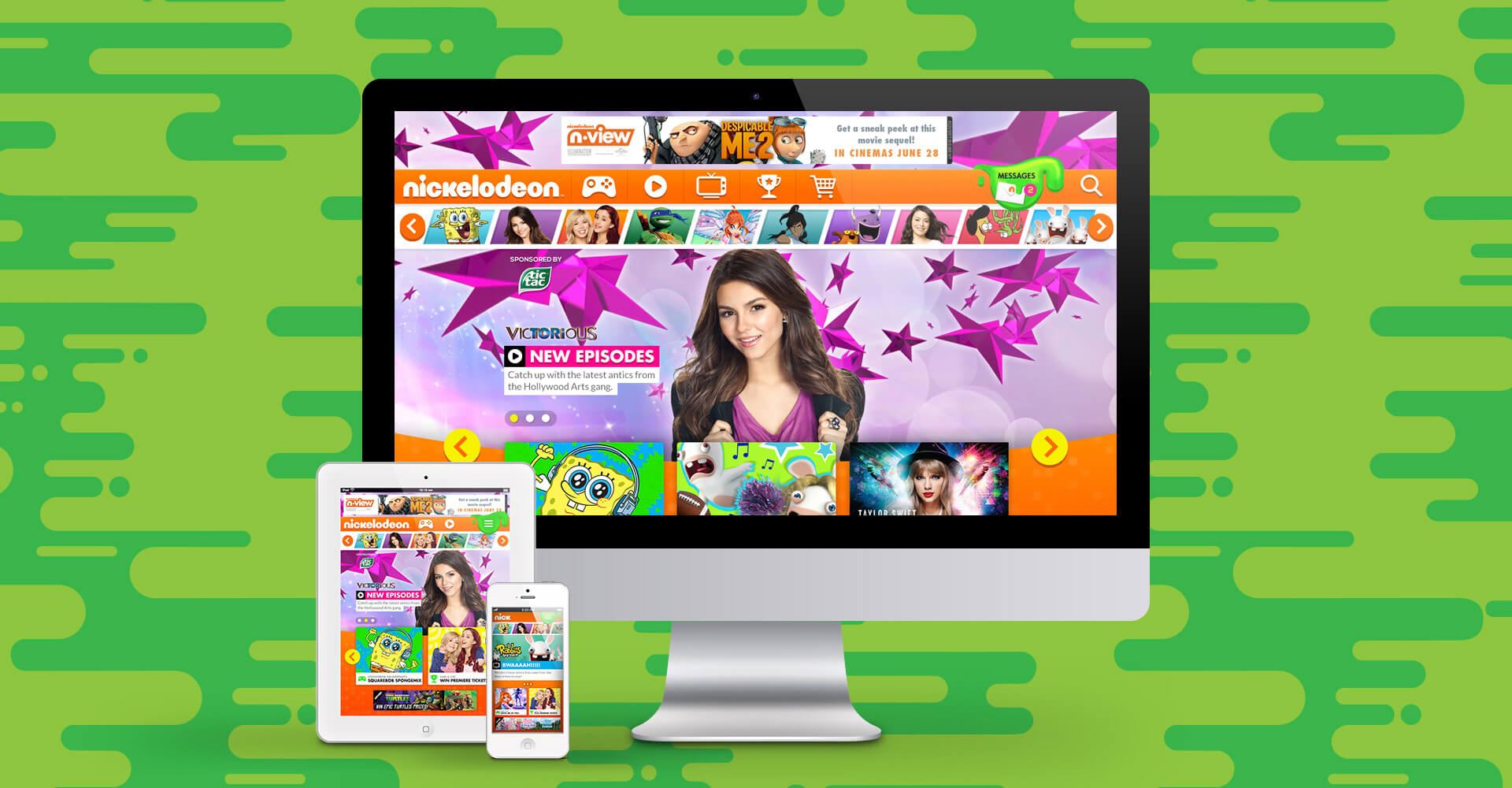 New Features
A noisy, colourful mash-up of animated clips, irreverent videos and even the occasional splatter of Nickelodeon's trademark green slime. The revamped website and award-winning Nick App features an endless stream of totally awesome content allowing visitors to play more games and watch tons more videos than ever before. It also features awesome new interactive polls and a giant 'Do Not Touch' button throughout the website. Dare to press it and just watch out for surprises!
The modular-based website layout allows entire content areas to be switched or swapped out easily depending on the network's priorities, making sure that the most important and engaging content can be prominently placed at the right time.
Each of the Nickelodeon shows have dedicated show pages that can be easily themed, transforming the site to represent the look and feel of each individual property. The new design gives visitors a BIGGER and BETTER way to watch online videos and play games, including allowing them to rate their favourite content.


RECOGNITION:
Broadcast Digital Awards 2015 - Best App or Website for a Strand, Channel or Genre - Shortlisted
Broadcast Digital Awards 2014 - Best App or Website for a Channel, Strand or Genre - Winner
BAFTA Kids Vote 2013 - Best Website - Shortlisted


Nickelodeon's Code-It
An innovative new product for the website was Nickelodeon's Code-It, which aims to help kids explore the Fun-damentals of computer coding through interacting with their favourite characters. Code-It is aimed at kids aged 6 to 12 and compliments the national curriculum. Users can manipulate a variety of Nickelodeon characters; animating them to move, change their expression, their size and more.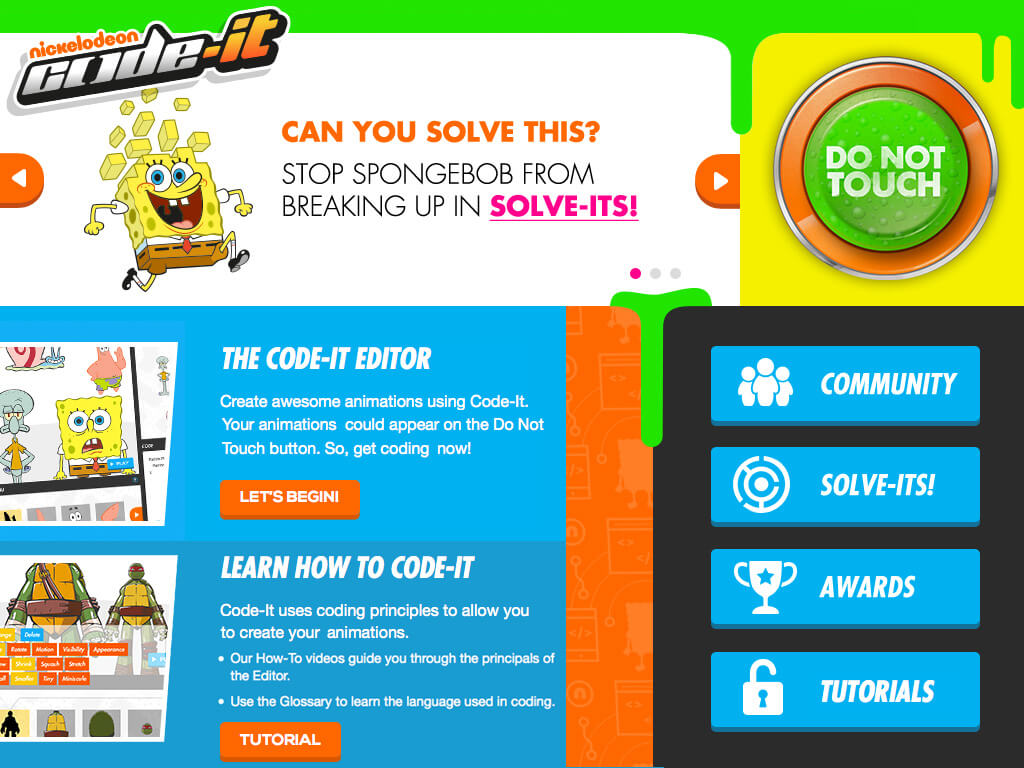 Rewards & Challenges
As users gain more confidence and take on more complex coding tasks, they will earn special rewards such as badges, which are visible to other Code-It users. More experienced coders will also be able to write their own code in the advanced code editor and take part in special Solve-It challenges, such as making SpongeBob dance.


Once a user has programmed a sequence, they can upload it to the animation gallery where other Nick.co.uk users will be able to view both the finished animation and edit the code used to produce it. The animation also has the chance to be selected by Nickelodeon to form part of the popular 'Do Not Touch Button' feature, Nick.co.uk's random animation generator.
RECOGNITION:
Broadcast Digital Awards 2015 - Best Digital Children's Content - Shortlisted
AGENCY:
Tilt